Ubud Indonesia Travel Guide
A Vagabond Life
Ubud Bali Travel Guide and Tips
Ubud Bali Travel Guide

The Ubud Bali Travel Guide offers a guide to Ubud, a pretty town in the hills of Bali, an Island of Indonesia. Famous for its Monkey Forest, Art and Culture – and the book and then movie Eat Pray Love – Ubud has grown rapidly over the past years and is now a busy tourist destination.
Ubud has numerous restaurants, galleries, shops and health spas to keep one amused for days. It also has accommodation for every budget and taste.
It is worth spending a few days in Ubud to appreciate it rather than rushing up fro the coast and back in a day.
Ubud is about an hours drive from Dempasar
Ubud Bali Table of Contents
Indonesia Travel Map
Things To See & Do In Ubud Bali
Sacred Monkey Forest Sanctuary
Uud Bali Travel Guide to to Monkey forest. The home of three holy temples the Sacred Monkey Forest Sanctuary, or just The Money Forest, official name is Manadala Suci Wenara Wana and is found at the end of Monkey Forest Road in Ubud.
The Three temples are; the Pura Dalem Agung Padangtegal, known as the main temple in the SE of the park is used to worship the god Hyang Widhi in the form of Shiva. The Pura Beji in the NW of the park is a holy spring bathing temple, a place of spiritual and physical cleansing. The Pura Prajapati in the NE of the park.
Monkeys - Ubud Monkey Forest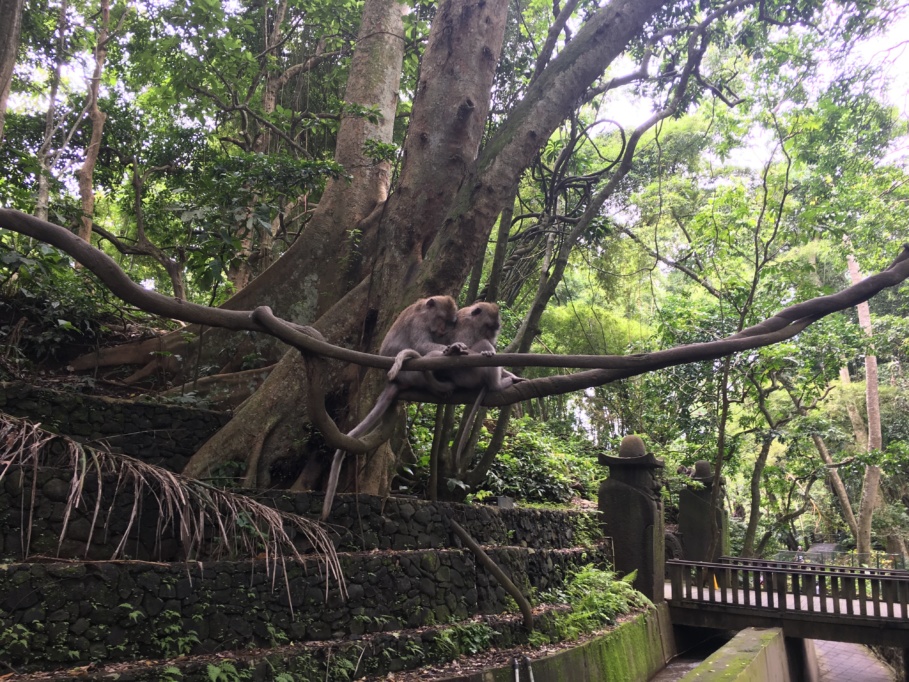 Rice Paddy Walk
We thoroughly enjoyed our early morning guided walk through the rice paddies that surround Ubud. While Ubud bustles just aloud the corner the farmer of the rice paddies go about there day as they have for many years.
 The climate of Bali allows for 2 rice crops a year s the rice farmer are always busy in the paddies, at what to me appears to be back breaking working under a hot sun. A tip is to leave very early as it is beautiful in the rice paddies as early in the morning – and much cooler.
Eating and Cooking Courses
Eating and Cooking Courses in Ubud Bali

Ubud Bali Travel Guide to Balineses food – Bali offers a range of delicious food that can be purchsesed from both street traders and in restaurants. There are many dishes that are firm favourites howvere here are six that are a must try;
Nasi Campur – Rice with a mixture of tasty treats accompanying it.
Sate – Meat (Often chicken) cooked on a skewer served with a spicy peanut sauce.
Mie Goring – Indonesian fried noodles with vegetables and meat.
Baba Guling – A firm favourit is Bali is roast suckling pig cooked on a spit over coals.
Bubur Ayam – (Indonesian congee) A delicious breakfast, one of my favouitre dishes.
Nasi Goring – Indonesian fried rice with vegetables and meat and usualyy served with a fied egg on top.
Cooking Courses
A cooking course is a fun way to learn a little about the local food and of course to get to try a variety of the cusine. Your hotel / guest house should be able to recommend a cooking course
Ubud Palace - Ubud Bali Travel Guide
Ubud Palace
The Royal Place, or Puri Saren Agung is a palace and temple built mainly in 1917 after the earthquake. In the compound are lovely traditional Bali houses with traditional and very intricate Balinese art and sculpture.
The palace is a centre for arts and culture. In front of the palace is a busy market which is fascinating to wonder through. In the evening there are traditional Balinese dance ceremonies. The Ubud palace is at the intersection of Jalan Monkey Forest and Jalan Raya Ubud right in the centre of Ubud.
Blanco Museum Ubud - Ubud Bali Travel Guide
Blanco Museum Ubud
The once home of Antonio Blanco (1912–99), a Filipino born to Spanish parents, the Bianco Museum Ubud is now a museum and cultural centre showcasing the expressionist art works along with illustrated poetry the somewhat eccentric Blanco was known for.
It is a nice place to spend a few hours and we very much enjoyed the quirkiness of this museum. Don't miss the artists studio which has been preserved in time with a number of interesting photos on the walls. Enter through a court year filled with parrots and other birds.
Address: Jalan Raya Penestanan No.8, Sayan,Open 9am to 5pm daily.
Agung Rai Museum of Art
The Agung Rai Museum of Art was founded by Agung Rai, a Balinese who has devoted his life to the preservation and development of Balinese art and culture.
The museum has a permanent collection of Balinese, Indonesian and foreign artists which ranges from traditional to contemporary. The museum also is a centre for performing arts allowing the visitor to experience theatre performances, dance, music and painting classes.
Address: Jl. Raya Pengosekan Ubud Open 9am – 6pm daily.
The Gilie Islands Indonesia We arrived on Gilie Trawangan from Bali and immediately wandered what the hype is about. The islands have the pre-requisite white
Read More »
Ubud Bali Indonesia – We came back to Bali in early 2018 for a well deserved rest….actually our primary motive wasn't to visit Bali but
Read More »
Bali Indonesia I said I'd never do it, never ever go to Bali. Too many ugly Australians, too many tourists, too much commercialism, but faced
Read More »