Moscow Russia Travel Guide
A Vagabond Life
Moscow Russia Travel Guide A Vagabond Life
Moscow Russia Travel Guide
The Moscow Russia Travel Guide will help you plan your trip to Moscow Russia.
Moscow is the large busy capital of Russia with a population of over 15 million people living within the city limit and 25 million living in the greater metropolitan area it is the second largest city in Europe after Istanbul.
Best known for the iconic St Basil's Cathedral, Red Square and Kremlin ,Moscow has these sites plus a great deal more to offer the visitor.
This Russia Travel Guide looks at the most popular and iconic attractions plus cover hints and tips on Moscow.
Moscow Russia Table of Contents
Moscow Russia
Travel Tips Moscow Russia
Moscow has excellent public transport which includes buses, trams, trolley-cars and a vast and very elaborate metro.
The easiest and cheapest way to get around Moscow is by buying Troika card, a re-loadable smart card which can be used on the metro, trams, buses and trolley cars.
A Troika can be purchased and topped up at any metro station. The cost is RUB50 which is refundable if you return the card at the end of your stay.
Alternately you can purchase a red paper ticket with a number of pre-loaded trips from the ticket booth in the metro. These tickets work on the metro, buses and trolleys Fares depend on the number of trips purchased; an 11-trip card costs RUB320.
May to June are the most popular months to visit Moscow, the weather is mild and the days are long…as are the crowds
July and August see hotter and often humid weather but is still a popular time with visitors
September brings Autumn with the trees turning beautiful shades of red, yellow and orange. Moscow celebrates City Day.
If you are keen to see Moscow in her winter coat December see any cultural festivals and the December Night Festival is held.
March and April is when the snows start to melt and the streets are slushy and dirty.
Weather
| Climate | Jan | Feb | Mar | Apr | May | Jun | Jul | Aug | Sep | Oct | Nov | Dec |
| --- | --- | --- | --- | --- | --- | --- | --- | --- | --- | --- | --- | --- |
| Daily highs (°C) | -4 | -3.7 | 2.6 | 11.3 | 18.6 | 22.0 | 24.3 | 21.9 | 15.7 | 8.7 | 0.9 | -3 |
| Nightly lows (°C) | -9.1 | -9.8 | -4.4 | 2.2 | 7.7 | 12.1 | 14.4 | 12.5 | 7.4 | 2.7 | -3.3 | -7.6 |
Moscovites dress up to go out so it is a good idea to pack something that works for a nice night out at a restaurant or show.
Clothing
2 pants, include one black pair that can double as 'good'
1  shorts
1 x singlets – good for layering and sleeping in
4 short sleeve tee shirts or shirts.
1 x long sleeve sloppy joe or similar
1 x polar fleece jumper
1 x zip-up shell jacket
1 x lightweight windproof raincoat
3 x socks
5 x underpants
2 x bra
1 x  Northface Dipsea 
I x warm hat (if there in winter)
1 x sun hat (if there in summer
1 x warm gloves (if there in winter
Shoes
1 x pair walking shoes
1 x pair flip flops (great for showers)
Toiletries
Travel Towel
Lush Bar Shampoo
Bar of Soap
Deodorant
Brush / Comb
Hair Ties
Electronics
1 x Earbud headphones. Light and small,
1 x 6S iPhone loaded with music and podcasts
1 x power bank
Photography
1 x GoPro Hero 5
2 x Spare GoPro Batteries
1 x LUMIX TZ80
Spare micro SD Card
Other Stuff
1 x headlight or torch **essential
1 x Swiss knife
1 x medical kit
Refillable water bottle
Things To See & Do In Moscow Russia
Moscow Red Square
Red Square is jaw dropping, stand in the middle of this incredible square and be absolutely awe inspired.
This famous square is surrounded by St. Basil's Cathedral, the State History Museum, Lenin's Mausoleum and one side of the the Kremlin. Interestingly the square is not red but takes its name from the Russian word krasniy which means beautiful.
During the big events, such as Victory parade and the Military Orchestra Tattoo Red Square can be closed.
Metro: Ohotnii Ryad, Teatralnaya or Ploshad Revolutsii.
St Basils Cathedral
Standing proud at the south end of Red Square St Basils Cathedral is what most people associate Moscow with.
Officially named The Cathedral of Vasily the Blessed It was built from 1555 to 1561 on orders from Ivan the terrible and commemorates the capture of Kazan and Astrakhan.
Inside the cathedral is a museum which is fine but the real beauty of the cathedral is from the outside.
Address: Red Square, Moscow Russia.
Admission: RUB 500–700
State History Museum 
Taking pride of place at one end of Red Square the State History Museum exhibits range from relics of prehistoric tribes that lived on the territory of present-day Russia, through priceless artworks acquired by members of the Romanov dynasty.
Its a nice place to wander around and the top floor offers fantastic views of Red Square looking down towards St Basils cathedral.
Address: Red Square Moscow
Opening Hours: Daily 10AM – 7PM
Admission: RUB 150–500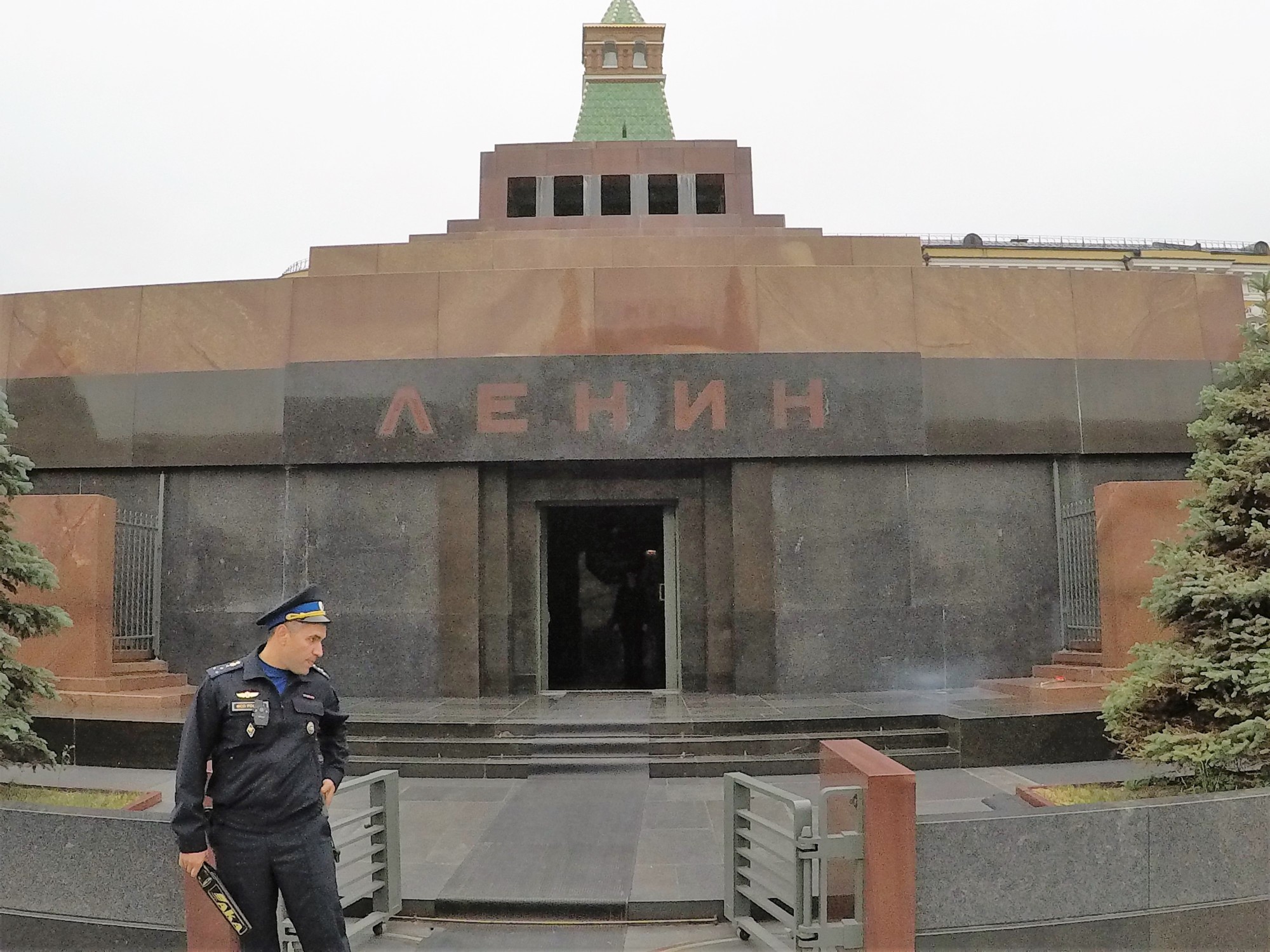 Lenins Mausoleum
Lenin's Mausoleum sits in the centre of the Red Square u against the wall of the Kremlin and is the resting place of Vladimir Lenin. Visitors can walk past Lenin's embalmed body.
All cameras, phones and bags must be left in the luggage office.
Free admission.Get there early as queues are usually huge.
Open 10AM-1PM Tu, W, Th, Sat Closed on Su, M, F.
Moscow Russia Kremlin
The Kremlin is an ancient citadel and home of the former Tsars. It is still in use today by Russian leaders. The Kremlin is set on over 60 acres and dates back to the 12th C.
Buildings in the Kremlin
Cathedral Square
The Cathedral of the Annunciation was built in 1482, and was where the Tzars were christened and married.
Assumption Cathedral built in 1475 is Russia's main and most important Cathedral. It is here that the Tsars were once crowned and Church patriarch buried.
Cathedral of the Archangel Michael built in 1505. The cathedral holds the tombs of Russia's rulers from Ivan I (1328-41) to Tsar Ivan V (1682-96), Peter the Great's predecessor.
Church of the Deposition of the Robe, built in a more traditional style of the late 15th century.
Terem Palace, with 11 clusters of Domes is the oldest structure in today's Kremlin and was the home of Russia's rulers until Peter the Great.
Grand Kremlin Palace. Once the home of the Tsars and now home of the Russian president, it is very ornate and very beautiful.
Ivan the Great Bell Tower. Once the tallest building in Russia the Ivan the Great Bell Tower has 21 bells and gold topped domes and displays some of the artillery from the Armoury,
The Patriarch's Palace and the Cathedral of the Twelve Apostles is now a museum showing Russian life and art from the 17th C.
Tsars Cannon was designed in 1586 to protect the Saviours Gate and has never been fired and the Tsars Bell is the largest bell in the world and has her been rung.
The Armoury – holds all sorts of treasures including Faberge eggs.
Diamond Fund. Diamonds and State jewels. You pay extra to see this exhibit
Tours fill up quickly so book ahead.
Hours: 9.30AM – 6.00PM Friday – Wednesday. Closed Thursday.
GUM Department Store
On the Eastern side of Red Square is GUM shopping centre. Commissioned by Catherine the Great and built in an italianate style as a huge trading hall eventually housing u pto 1200 traders. The Bolsheviks used it as the State Department Store before Stalin turned it into offices for the committee in charge of his 5 Year. Plan. It reverted to a shopping centre in 1953 and is now the home of every upmarket and top end label one can think of.
Moscow Metro
The Moscow Metro is amazing and a huge attraction in its own right. Make sure you make time to visit some of the more famous and elaborate metro station such as
Ploshchad Revolyustsii – representing the roles played in the revolution in life size bronzes.
Mayakovskaya – just beautiful is an art-deco hall of pink rhodonite and slim columns. The ceiling depicts 24 Hours In The Land Of The Sovites.
Teatralnaya – Porcelain figures represent the sev Sovite Republics.
Bolourusskaya – Ceiling Mosaics depict life and times of neighbouring Belarus.
Novoslobodskaya – 32 windows in stained glass of intellectual professionals. At one end is the mosaic "Peace In The World"
Moscow Gorky Park
Gorky Central Park of Culture dates back to 1928 and is a beautiful park in Moscow covering an area of 300 acres along the Moskva river.
The park hosts numerous activities including; bike and skate rental, ice skating in the winter, and art and music festivals. There are also numerous eateries and food kiosks along Gorky Park Food Row.
Address: Krymsky Val, 9, Moscow,
Metro: Park Kultury Metro
Open: 24 Hours
Admission: Free
Russia Travel Stories
From remote Eastern Siberia to the sophistication of St Petersburg. Read our stories across Russia
There are 195 countries in the world stretching across seven continents – so there is an awful lot to see.Where to begin? Many people are inspired by a movie they have seen or a story they have heard, or a desire to see the land of their ancestors. 
Use the drop-down on the right to explore the world.