How To Travel In The Gobi Desert Mongolia
A Vagabond Life
How To Travel In The Gobi Desert Mongolia A Vagabond Life
How To Travel In The Gobi Desert Mongolia
How To Travel In The Gobi Desert Mongolia – Five Quick Facts About Travelling In The Gobi Desert Mongolia
Mongolia is BIG, it has the 18th largest land mass in the world.
There are very few roads outside Ulaanbaatar mostly its just tracks or even more often just tyre tracks in the dirt that crisscross the Gobi Desert Mongolia.
There are no signs and very few maps.
The terrain is beautiful but very unforgiving, if venturing into the Gobi Desert Mongolia this needs to be taken very seriously.
Villages and towns are few and far between and often hard to find.
Ways To Travel In the Gobi Desert Mongolia
Private Driver & Guide 
Hiring a driver and a guide means you can design a trip that suits you, takes you where you want to go and can be as long as you want it to be. By hiring a driver and guide you can travel to more remote parts of the country and visit areas off the tour trail. It is important to note if you do travel into more remote parts of the Gobi Desert Mongolia it will mean no toilets (rocks work well) and limited opportunity to shower.
Do I need a driver and a guide? Yes you do. The drivers job is to drive – all day – and get you through some tough, rugged terrain. The guides job is to look after you, cook the meals and make sure you have somewhere safe and comfortable to sleep. You need them both.
We hired a driver and guide through Golden Gobi for our journey into the Gobi Desert Mongolia and they were excellent.
Tours of the Gobi Desert Mongolia

Every guest house in Ulaanbaatar offers tours along with a number of the big travel companies. These tours generally follow a generic route which takes in the 'big ticket' items of a particular region of the Gobi Desert Mongolia.
If you elect to do a tour with a guest house it is important to do you homework and research companies thoroughly as the quality and professionalism varies greatly. You need a driver and guide who are experienced in the wilds of Mongolia, can negotiate with nomads and know their way around an often hostile environment.
When we travelled in the Gobi Desert Mongolia twice we encountered massive storms and our driver & guide were able to quickly change plans to avoid the weather and find alternative accommodation that was safe.
Alternately you can do a tour with one of the big international tour companies. These tours generally follow a well worn route and stay at Tourist camps which usually have both toilets and showers. 
Independent Travel In The Gobi Desert Mongolia

Some decide to hire a car and travel independently. If you chose to do this some tour operators will be able to kit you out with sleeping bags, tents and camping equipment.
A word to the wise – If you decide to travel independently you will need an excellent GPS, be able to carry water and food for multiple days and have a knowledge of where all the small towns and villages are so you can replenish both petrol and water supplies.
What Should A Good Tour Operator Offer
Experienced driver and guide.
All transportation including pick up and drop off from your guest house. This also includes a fuel costs.
All meals (breakfast, lunch and dinner)
1.5 litres water per person per day
Tents, sleeping bags, ground mats.
A combination of camping and staying in nomad family gites.
Entrance to National Parks
Top Things To Do In The Gobi Desert
Gobi Desert Sunset
The vast open spaces of the Gobi make the sunsets truly special. Grab a cup of tea (or a vodka) and sit down to watch one of natures great shows.
Stay With A Nomad
The Mongolian Nomads are a warm and hospitable people who are a delight to stay with. If staying with Nomads it is polite to take a gift & beware of the camp dogs who can be vicious.
Gobi Desert Sunset
The Mongolian camel is the two humped Bactrian camel who is smaller than his cousin the one humped Dromedary camels. The two humps mean you are wedged in and it is pretty hard to fall off.
Eat With A Local
Whenever you encounter a Nomad in the Gobi they will try to feed you. It may be a noodle and mutton soup, home made yoghurt or a type of biscuit they make it is guaranteed to be interesting …and remember its rude to refuse.
Top Things To See In The Gobi Desert Mongolia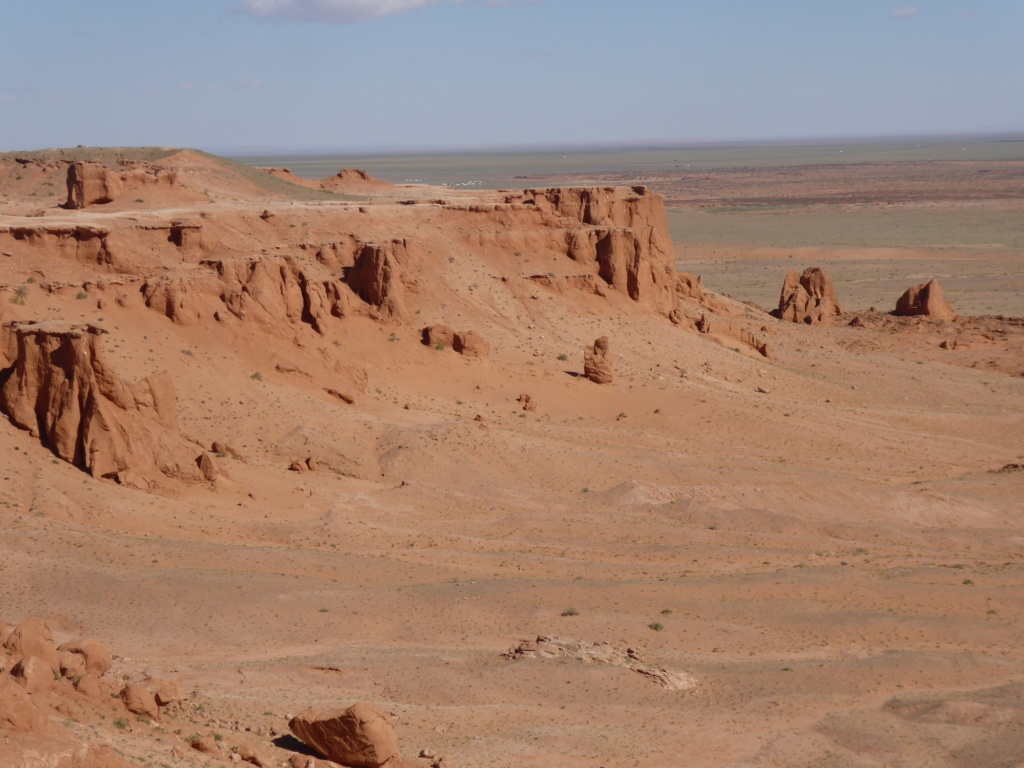 Flaming Cliffs Gobi Desert Mongolia
On a vast green plain with snow capped mountains in the distance Flaming Cliffs or Bayanzag is a site where Dinosaur bones and eggs were found back in the 1920's. It is very very beautiful.
Ich Gazaryn Chuluu National Park
Ich Gazaryn Chuluu National Park
Perhaps our favourite place in the Gobi the Ich Gazaryn Chuluu National Park is truly stunning. Huge ancient rock formations tower above the plain as camels wander around searching for grass. The annual Long Song Competition is held here and it is populare with rock climbers.
Ich Nacht Nature Reserve
In the Eastern Gobi and considered remote the Ich Nacht Nature Reserve is home to endangered Ibex and Argali and also has some pretty cool rock carveings. There is a rangers station there where scientists from all over the world come to study the area.
Holy Mountain
It is said to be the holiest mountain in Mongolia, so sacred in fact the locals will not say its name. The Holy mountain is set on a plain with a nearby lake which was almost empty when we were there. Local Nomads farm goats on the surrounding grasslands. It is a very peaceful part of the Gobi.
Duut Mankhan The Singing Dunes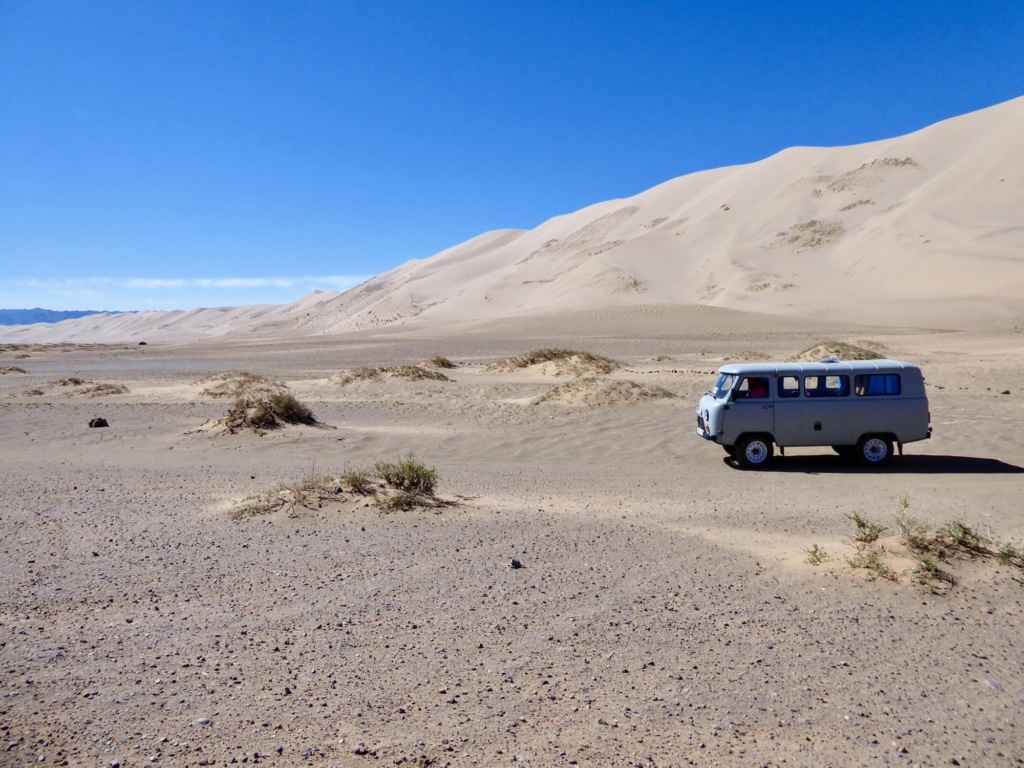 Duut Mankhan The Singing Dunes
The stretching they are up to 300m high, 12km wide and about 100km long the Khongoryn Els or The Singing Dunes are pretty jolly impressive. Some try to climb them but I chose to admire from the bottom.
Yolyn Am ice Canyon Gobi Desert Mongolia

The Yolyn Am ice Canyon is a 10 km long heavily shaded canyon which has the tail end of a glacier running through it. In the winter the ice reaches a depth of 10 metres, in the summer it is only a metre or so and can be trekked on.
The name Yolyn Am translates to Vultures Month and the canyon was originally established as a bird sanctuary.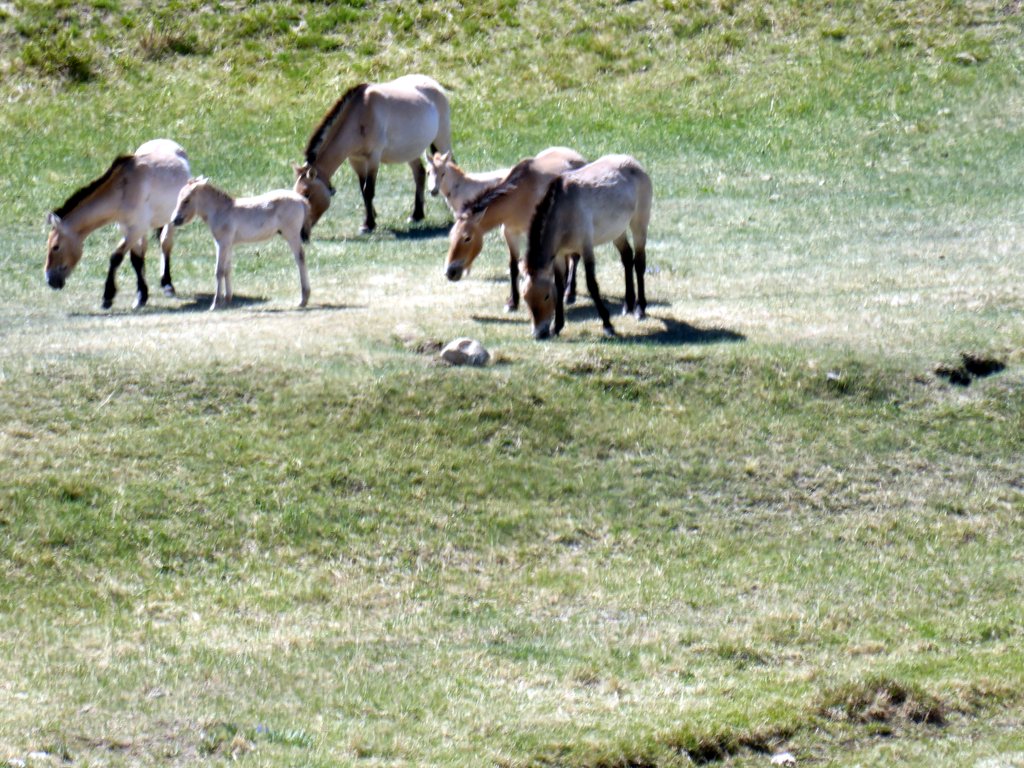 Hustai National Park
Hustai National Park is home to the last truly wild horse, the Takhi horse in the world which exists in this park and one other place it the world – there are 300 left in existence. They are hard to find and spotting them is rare – we were lucky enough to see 2 herds of about 70 horses. The park is also home to the endangered Red Deer.
Visit Remote Monasteries In The Gobi Desert Mongolia