Bangkok Thailand Travel Guide
A Vagabond Life
Bangkok Thailand Travel Guide A Vagabond Life
Bangkok Thailand Travel Guide
Bangkok Thailand – Bangkok is the capital of Thailand with over 14 million people living in the greater Bangkok area. For many years it was just a small trading port on the Chao Phraya River, until King Rama I turned it into the capital of Siam in 1782, after the burning of Ayutthaya by Burmese invaders. Bangkok is now a vibrant international city with stunning temples and palaces, canals, busy markets and a vibrant nightlife. 
I couldn't tell you how many times I have been to Bangkok and I just love this city. It's big, its crazy busy, it's a bit grubby and its alive and so interesting. When I step from the airport I always feel like I am coming home.
Bangkok Thailand
Things To See & Do In Bangkok Thailand
Bangkok Grand Palace
The Grand Palace is right in the heart of Bangkok the grand palace of Thai royalty since 1782. The royal family no longer live there however it is still used for official events.
Completely surrounded by walls the complex is made up from an assortment of buildings, pavilions and halls set over 54 acres of land and sits on the banks of the Chao Phraya river. Situated within the walls of the palace is Wat Phra Kaew which houses the famous Emerald Buddha.
The temple was built in 1783 in ancient traditional style and is surrounded by walled cloisters with 7 gates.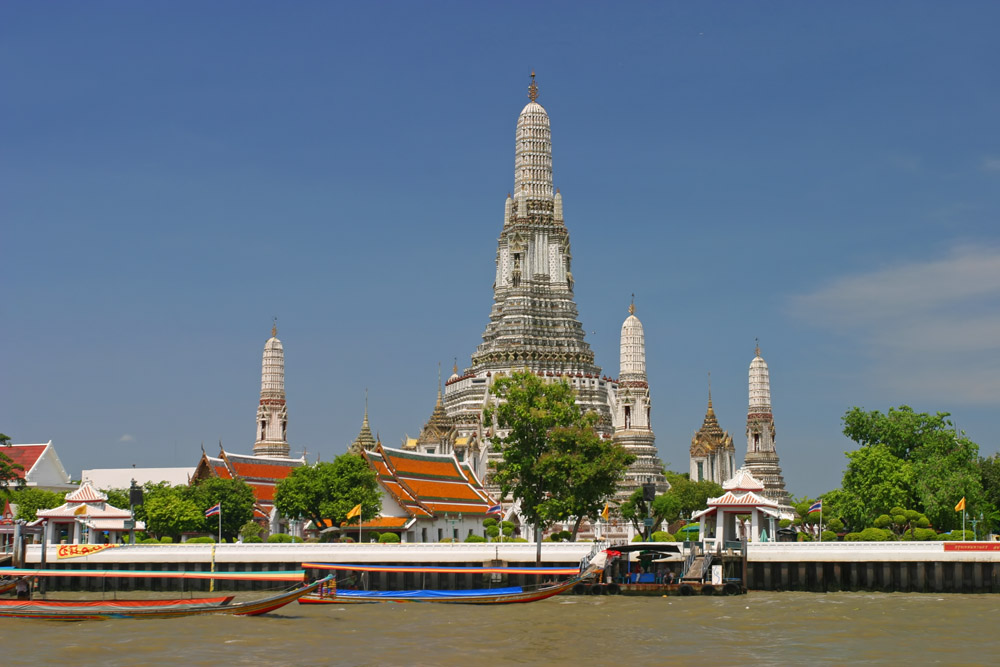 Wat Arun 
Wat Arun is a Buddhist temple west bank of the Chao Phraya River and is known for its unique ornately tiled spire. Wat Arun is one of Thailand's most important religious sites, guarding the spiritual lives of Thai Buddhists
Golden Buddha
The Golden Buddha resides over the temple of Wat Traimit and is a huge weight of 5.5 tons of mostly gold. With unknown origins the Golden Buddha is made in a style dating from 13-14th centuries and has Indian influence.
At one point the Golden Buddha was covered with plaster to hide its true value, the gold was discovered when it was being moved in 1955. 
Wat Traimit is located at the end of Chinatown's Yaowarat Road, near Hualampong Railway Station. The Wat is open 9am to 5pm and costs 10 baht to enter.
Bangkok China Town 
One of my memorable and delicious meals was in Bangkoks China town, sitting on tiny plastic chairs on the street. Bangkok's Chinatown is one of the largest Chinatown's in the world and was founded in 1782, it lies along Yaowarat Road and its entire area is roughly the same as the Samphanthawong District..
Khaosan Road Bangkok
Ah Khaosan Road – the backpackers ghetto where you will see all walks of life and all manner of things. Normally conservative people visit Khoasan road and come away with a tattoo, deadlocks and a plethora of pirated DVDs. Never ceases to fascinate me. By day Khaosan is a busy trading street and a night a heaving mass of partying backpackers drinking from buckets. In the Banglamphu area of Bangkok Khoasan Road was once a centre for rice milling hence the name.
While still popular with backpackers Khaosan Road has changed over the years with hostels becoming more up market and more guest house's opening gone are the days of super cheap rooms (complete with bedbugs) as even budget traveller are now expecting better. We always stay a short stroll from Khaosan Road and, for me a visit to Bangkok is never complete without a stroll down this unique road
Night Market
Bangkok has a number of night markets which are a must see on any trip to the city. While everyone has an opinion Silom market is the one I liked the best
Floating Markets 
There are a number of floating markets near Bangkok and are an interesting day trip from the city. Food and produce are set up in small wooden canoe type boats as the Thai people sell their wares from the canals. Bangkok sits on a delta and while the main cities anals were filled in years ago many canals can still be found in the outlying areas of the city
Ao Nang Beach – Krabi Thailand – From Siem Reap we hoped a very quick flight to Bangkok where we spent 5 lovely days at
Read More »